Eye health - in Focus
Your best source of eyecare information
Baked Salmon for Better Eye Health - Episode 12
There's no need to stress about making all your holiday guests happy this year! With our delicious salmon dish, and many other recipes featured on our YouTube channel, you'll be rounding out your best holiday menu in no time.
Schedule a Local Eye Doctor Visit in Under Three Minutes
Why Do You Need an Annual Eye Exam?
Your eye exam is an integral part of your overall health assessment— helping you see better and manage your wellness for the future. Diabetes, high blood pressure, and many other systemic conditions may affect your eye health if left unmanaged.
Some symptoms of possible vision problems include:
Headaches
Eye Pain
Blurred or Double Vision
Light Sensitivity
Redness
Itching, Burning, or Discharge
Seeing Halos or Floating Spots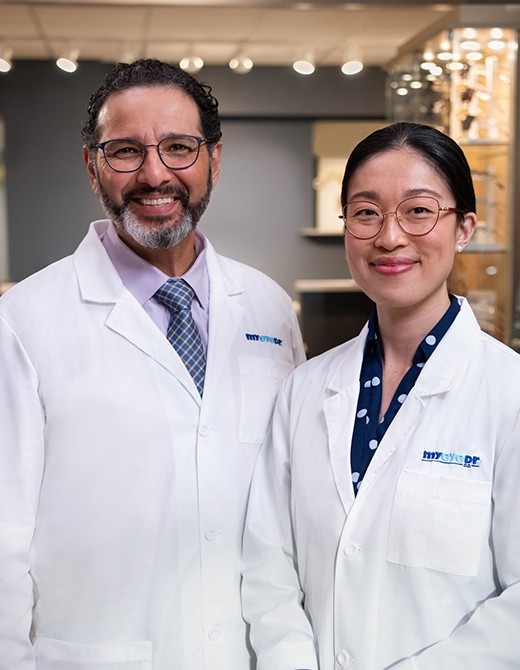 Things to Consider when Scheduling Your Eye Exam
Retinal Imaging
Advanced Technology at MyEyeDr. Practices
Our optometrists use digital retinal imaging to help get an even more in-depth understanding of your ocular health. In addition to helping detect diseases early, retinal images provide a permanent and historical record of changes in your eye. All MyEyeDr. offices offer retinal imaging.
Through retinal imaging technology, our trusted community doctors can diagnose patients' ocular health problems.
Experienced Optometrist
Staying at the forefront of the optometry industry
At MyEyeDr., we're happy to provide these eye exams and eye care services to patients of all ages, while accepting all insurances. Find out more about our retinal imaging capabilities by contacting your local MyEyeDr. office and then setting up your appointment online using our easy online scheduler.