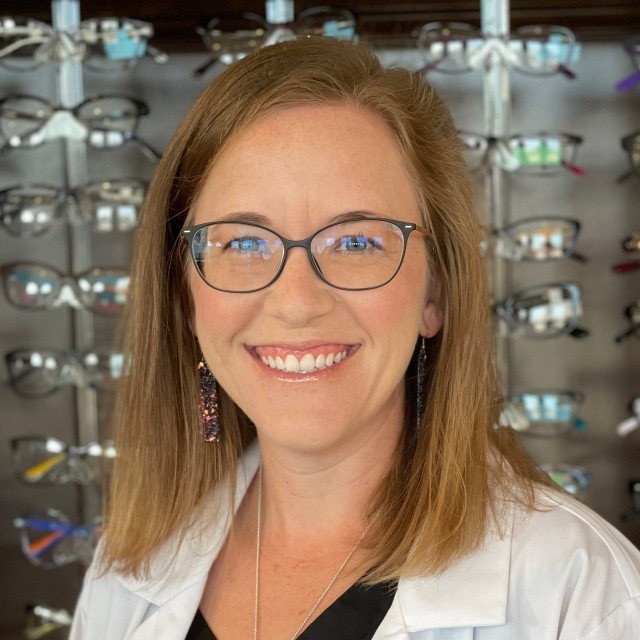 Lauren Nelson, OD
Dr. Lauren Nelson is a skilled optometrist practicing at MyEyeDr. in Spring, Texas. She graduated at the top of her class from the University of Houston College of Optometry. Prior to pursuing optometry, she earned a Bachelor of Science degree in Biochemistry from Texas A&M University.
Dr. Nelson's passion lies in adding a personal touch to her comprehensive eye care for patients of all ages, especially children. Having worn glasses herself from a young age, she understands the importance of optimal vision for children and takes joy in helping them see the world clearly. She credits lifelong memories of visiting her eye doctor since childhood and never having met an unhappy optometrist as the fuel for her desire to become one herself. Driven by their enthusiasm and motivated by the challenges they sometimes present, she finds fulfillment in improving children's vision and witnessing the confidence that arises from a new pair of glasses. Additionally, her ability to speak Spanish enables Dr. Nelson to better serve more patients in her community.
Outside of her practice Dr. Nelson cherishes quality time with her husband and their two boys. She also enjoys various crafts, including vinyl cutting, sewing, embroidery, scrapbooking, and woodworking. However, during the fall, her dedication shifts towards cheering on her beloved Aggies football team.
Dr. Nelson is truly proud of the compassionate care and concern exhibited by each staff member for every patient that enters her office. Her expertise, commitment to her patients, and passion for helping others achieve better vision make her a highly respected optometrist in the Spring, Texas community.
"Being a small part of the gift of sight brings beauty to every day I work. I am passionate about providing the highest level of care to every patient that comes to the office, and helping those same patients see and feel great in a new set of eyewear is a bonus!"