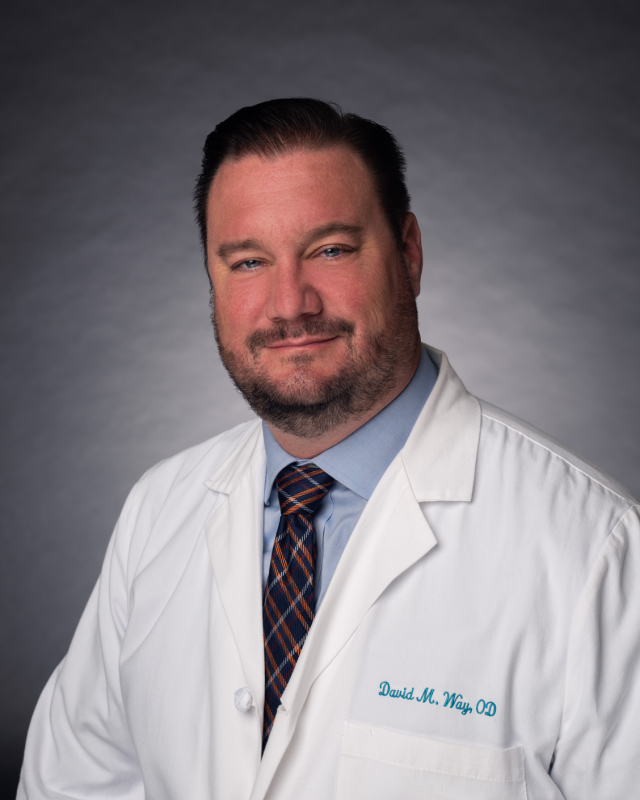 David Matthew Way, OD
Dr. Way dreamed of becoming a doctor from an early age. Although he originally was not sure what kind of medicine he wanted to practice, he decided that optometry would be a great fit for his personality after being introduced to a friend's optometrist in college. Dr. Way loves working and talking with people, as well as quick problem solving. Optometry allows him to meet new people daily and create lasting friendships with long-established patients. It also enables him to solve patients' vision and eye health concerns.  
Being involved in his community is especially important to Dr. Way. He started a program to serve low-income schools in his local district, Klein ISD, and has partnered with the Essilor Vision Foundation as well as Bridging for Tomorrow to provide free eye exams and glasses to children of Title 1 schools. Each year, they provide approximately 80 children with a complete eye exam and free glasses through this program. Many of these children would otherwise not be able to afford an eye exam or glasses. 
Being able to offer eye exams and glasses to those in need is Dr. Way's true passion in eye care. He also travels outside the US to do this in Honduras through the mission, Hope for Honduras, and has done the same in India and South Africa. Dr. Way loves going on short-term mission trips through his church. This is his favorite way to see the world—on a mission, with the locals. 
Dr. Way likes to spend his spare time woodworking and making custom wood and acrylic pens and pencils to give as gifts. He and his wife also enjoy gardening and growing their own fruits and vegetables in their backyard.  
Dr. Way is a graduate of the University of Houston's College of Optometry. Most recently, he was named Texas Optometrist of the Year for 2023 by the Texas Optometric Association. 
"My goal every day is to provide the most comprehensive and advanced eye care possible—but to deliver that care with the personal approach of a small-town doctor."